Specified to the highest quality build and finishing
Specified to the premium quality build and finishing
Santi Peak Villas is an investment opportunity that will be available to the purchaser with full package options. While the finishing specifications that are included in the units are of high standard, we are open to bespoken changes to the end product. The living room and bedrooms are fitted with air-conditioning. A fully fitted western kitchen, including oven, stove and hood, comes standard with each villa. Complete furniture packages are also available and personalized to your taste and budget.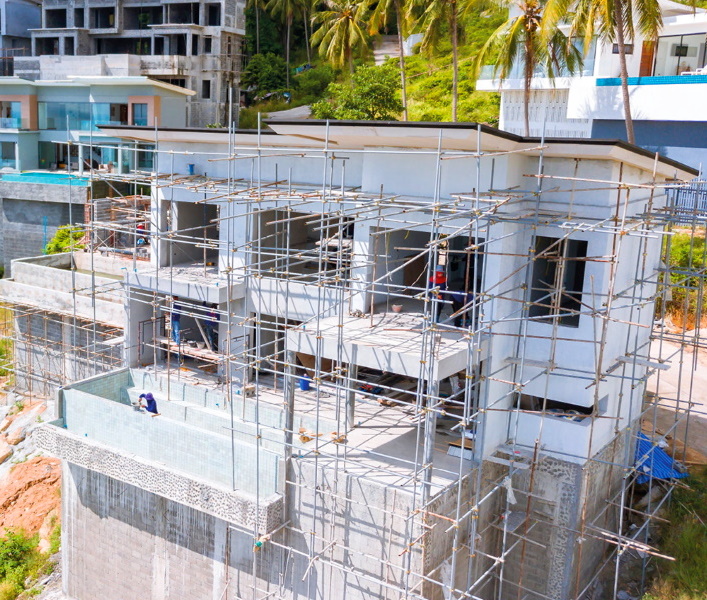 Structure & General Finishes
Our structures comprise of reinforced steel and concrete foundations with structural steel reinforced concrete beams and columns. Flooring will be precast concrete reinforced slabs. All concrete comply with testing regulation and build control standards.
The roof consists steel structure with roof isulation, marine plywood underlay and asphalt shingles. Roof gutter drains to the water tank.
Powder coated aluminium window and sliding door frames with 6mm clear glass.
Walls are finished with one coat plaster and one coat primer, followed by 2 coats of finishing paint. Exterior walls are painted with weather shield paint.
Ceilings with painted plasterboard and gypsum moisture board for bathrooms and exteriors.
Floor finishing with ceramic tiles 600 x 600 mm
All internal door from prepared and treated hardwood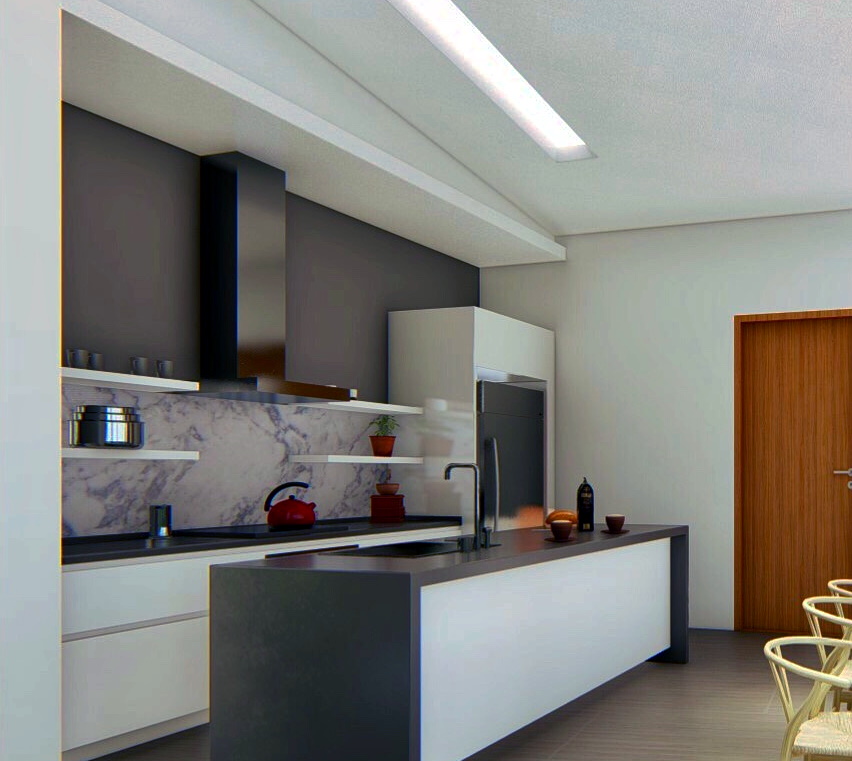 Kitchen
A fully fitted high quality western style kitchen with QUARTZ work tops and tile splash backs including electrical oven, stove, hood, faucet mixer and sink, comes as standard with each villa.
Electrical oven, stove, hood, faucet mixer, sink
Worktop QUARTZ Classic Grey
White Gloss color
Gola System Handle fixed with Cabinets
Kitchen Island with storage space
Base Drawer Units
Wall Cabinet Units
Ceramic Tile Splash Backs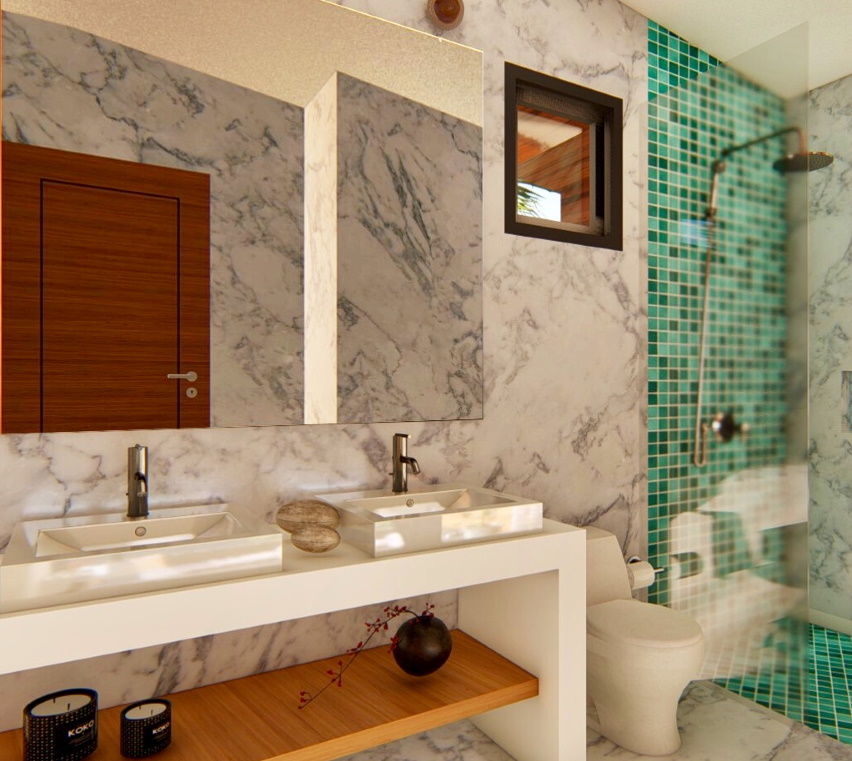 Bathrooms
Bright fabulous contemporary bathrooms. American Standard branded sinks, vanities, taps and showers come as standard with each villa.
Water Closet
Lavatories
Shower
Hand Spray
Towel Bar
Paper Holder
Floor Drain
Countertop Ceramic Tiles
Natural teak veneer Shelves
Floor and Wall Ceramic Tiles
Ceiling high quality gypsum moisture board
Tempered Safety Glass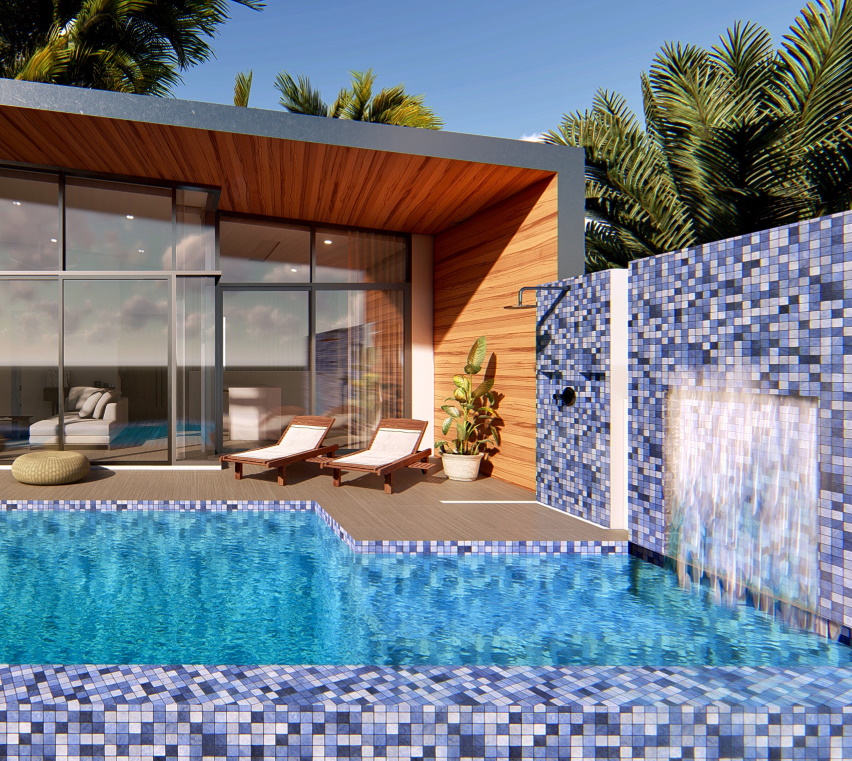 Swimming Pool
Each villa comes with
sea view
chlorinated swimming pool and
build in Jacuzzi
with high pressure jet system in line. 3 Bedroom Villa swimming pool has size 3 x 7 meters and 2 Bedroom Villa has size 3 x 6 meters. Nice
built in waterfall
for that special touch is included for 2 Bedroom Villa and beautiful covered
sunken Sala
for 3 Bedroom Villa.
Floor and Wall will be made from waterproof mortar and natural stone tiles 10 cm x 10 cm
Chlorin Pool System and Pool Pump
Swimming pool LED lights
Jacuzzi come as standard with each villa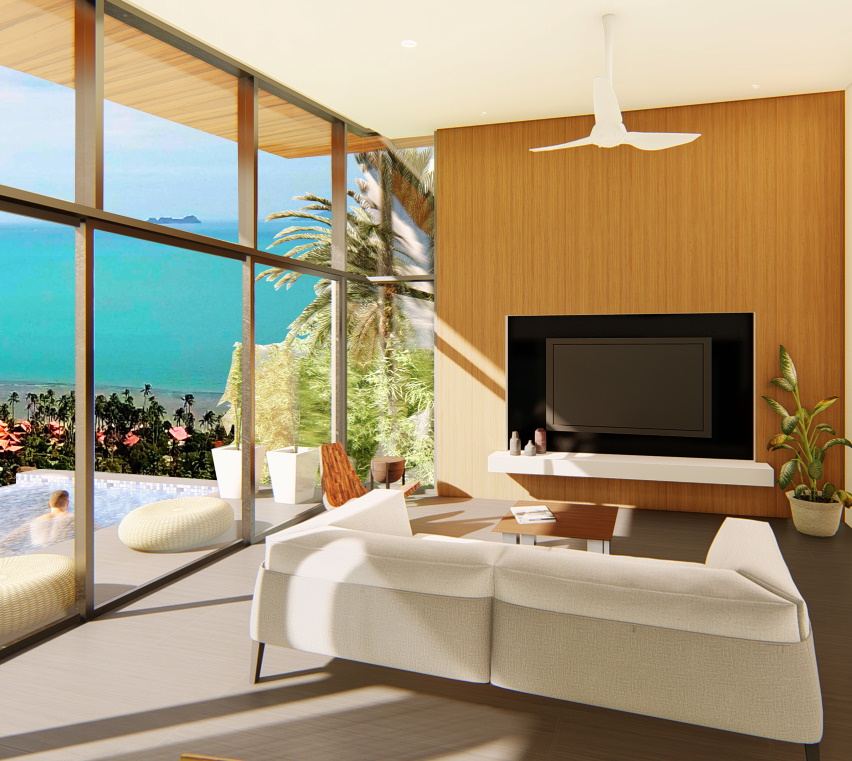 Miscellaneous
Pool Deck and Terrace: Ceramic Tiles
Ceiling Fans in living room, bedrooms and sunken Sala
Tempered safety glass balustrade on terrace
All lighting will be LED spotlights
Underground Water Tank connected to gutters
Pump and Storage Room
Fiberglass Septic Tank, seepage ponds and grease trap
Stiebel hot and cold water system
3 Phase Electricity
Inverter type Air Conditioning comes standard throughout
Internet LAN Points
* Due to supply conditions and the nature of operating in Thailand, specifications are subject to change as may be required.
Complete Furniture Package Available
While the finishing specifications that are included in the units are of high standard, we are open to customized changes to the end product.